It was a busy fall at Community Data Roundtable. This was our first "Fall Conference Season" since the Covid Lockdowns prompted conferences to host virtually. It was fascinating to learn how the human services field has addressed the stressors we're currently all facing. It was also rewarding to share some of the important cross-system data we collect at CDR with our professional community. CDR provided a fact-informed context for peers to gain a better understanding of their own efforts.
First CDR attended and presented at the 18th annual TCOM Conference, held in New Orleans, Louisiana. As is typical of TCOM, conference organizers juxtaposed some very interesting presentations. For instance, Friday's keynote began with a discussion of CMS' "value-based payments" model by economist Teresa Waters, Ph.D. This was followed by Dr. Rafael Perez-Figueroa, MD, MPH speaking about tensions between marginalized community needs and the large US health matrix. Both presentations included recognition of the opportunities and difficulties our system has in achieving an effective healthcare model.
CDR offered two different presentations at TCOM. First was a presentation on the use of TCOM data in value-based models. I gave real-world examples of VBP arrangements, and the ways in which CDR utilizes CANS and ANSA data to identify populations, direct incentives, monitor quality, and ensure successful care. Anyone interested in seeing this presentation should reach out to me.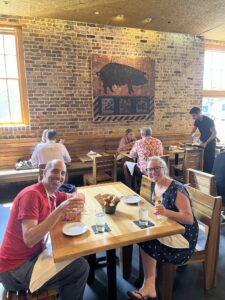 Second, I had the opportunity to co-teach with Lauren Fein, LMFT, of Santa Cruz County Behavioral Health. Fein has taken charge of integrating DataPool software into Santa Cruz county's mental health workflows, and is quickly developing expertise in analyzing TCOM clinical data at the worker and clinician level. Together, we demonstrated how to use caseload comparison reports, and individual client reports for helping therapists identify positive change opportunities. It was really fun working with Lauren, and I hope we get to do it again!
Our next stop was the annual Rehabilitation & Community Providers Association (RCPA) conference in Hershey, PA, October 11-14. The conference committee requested creativity from vendors, and CDR responded with a "Data Gallery," which showcased some impactful data from Pennsylvania's child-serving system.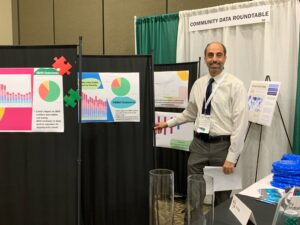 As providers, policymakers, MCO employees, clinicians, and advocates walked through our display, all viewers had the chance to share their personal experiences with us. We listened to observations on the steep decline in willing workers, especially for community-based autism services. Visitors to our booth also talked about disruptions of certain high intensity programs like residential placement, and how children must now wait months for proper care.
CDR's conclusions on our data seem to match feedback from conference attendees: the majority of program outcomes are still positive within the mental health system, despite disruptions. The primary problem seems to be system shrinkage, however those who are receiving care continue to move forward in their recovery, and are actively benefiting from services.
If you are interested in viewing our 'Data Gallery,' please reach out to me at dwarner@communitydataroundtable.org. We look forward to seeing all our colleagues again soon and in the meantime, building upon the insights we have gained from each conference experience. Human service professionals are making numerous positive impacts on our communities, and I'm proud to do this work with all of you.
Best
Dan Warner Ph.D.