Better Evaluations, Faster Decisions, Faster Referrals
The software we use to bring everyone together is called the DataPool™. The DataPool automates Total Clinical Outcomes Management (TCOM) forms like the Child and Adolescent Needs and Strengths (CANS), the Adult Needs & Strengths Assessment (ANSA), and the Family Advocacy and Support Tool (FAST).  The DataPool is a cloud-based assessment management system that has the ability to automate existing manual processes and improve communication with key stakeholders.  The DataPool is used in both mental health and child welfare environments.  The DataPool allows a certified evaluator to create and maintain assessment data, generate accurate reporting information and communicate information electronically between different entities allowing for collaboration on case development. Providers have the ability to create and maintain various assessments per client as well as report on their own programs' progress. This data-capture allows CDR, providers and other parties to analyze trends and outcomes.
How the DataPool Works
The DataPool works as the central node for facilitating communication across a system of care:
Providers

use it to score CDR CANS-PA, track clients' individual progress, monitor program level outcomes, and do aggregate analysis of their own programs. It provides decision support at point-of-contact with clients, and facilitates program evaluation activities.

Payers

 use it to receive real-time clinical information on members, track members across systems of care, organize their networks into streamlined, trackable systems, and to produce outcomes reports for both their own oversight bodies, and as a part of quality initiatives.
When used to its full capacity, the DataPool facilitates communication across entities—providing a central hub of information that multiple entities can access to track complicated cases & communicate progress.
All the while, the process tracks data that is viewed collaboratively by all stakeholders as a part of CDR's Roundtable Process, in which communities review their data, and make planning decisions.
Some providers utilize the DataPool just as an internal outcomes monitoring tool, and not as a hub for community interaction. These providers use the tool to measure outcomes within their own organization, and make reports for the community which show the clinical impact their programs are having. Further, the tool helps clinical leadership understand their programs, and improve clinical functioning at all levels. The DataPool creates reports and makes it possible to do the kind of analysis expected by accrediting organization like CARF and the Joint Commission.
Features & Specifications
Secure & HIPAA Compliant
Intuitive Design
Remote Access
Fully encrypted
Backed up regularly
Strong password requirements
Users only have access to the data necessary to do their job
Integrates with EHRs & Other Systems – For details on interoperability, please contact CDR.
Demonstration
Community Data Roundtable is dedicated to ensuring that all participants in an outcomes initiative benefit from their work. Towards this end, our online outcomes application, The DataPool, provides all participating providers with an access point to see their data, analyze it, and act on it.
The DataPool is a sophisticated outcomes monitoring and analysis tool. Its functionalities include:
Monitoring CANS scoring in your own agency for quality and timeliness. [Graphic 1]
Analyzing CANS in your agency at the program, individual, or clinician level.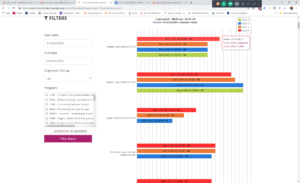 ||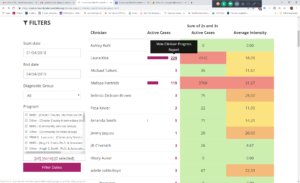 |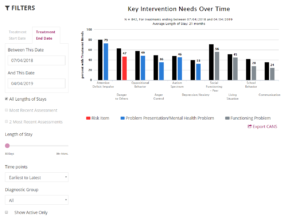 Printing program and agency-wide outcomes reports to share with stakeholders, payers, government, and accreditation agencies.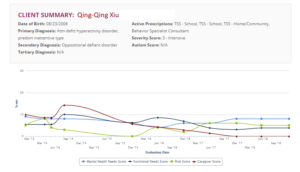 Communicate and share CANS information across your agency, or between agencies who share clients.