Beyond CDR's system-wide implementations, we also work with agencies, hospitals, insurance companies, child-welfare bureaus, and other entities that directly interact with consumers, to help them develop an internally robust TCOM systems.  This service is for organizations that are looking to use communimetric science to facilitate their organization-wide clinical processes, and are not necessarily involved with larger, state-directed TCOM implementations.  It is appropriate for organizations serving children and adults.
Why is TCOM right for my organization?
Total Clinical Outcomes Monitoring (TCOM) is a clinical-management system for human services and mental health systems.  It works like this: all of your clinical workers are trained in a basic assessment that is used any time a treatment or disposition plan is being made for a client (e.g. upon entry to a program, during re-evaluation processes, or at discharge).  The building blocks of this assessment are the Praed Foundation "TCOM tools" (i.e. CANS, ANSA, FAST).  We work closely with our clients, however, to individualize the tool for the organization's unique needs, adding and removing items as necessary.  With this universal assessment used across your agency you gain the following benefits:
Better assessment upfront of your consumer's immediate needs including clinical needs, risks, functioning problems, caregiver needs, strengths and more (e.g. there are modules for social determinants of health, trauma experiences, and more.)  CDR's expertise in training on clinical assessment helps ensure your workers come out well trained to provide comprehensive assessment of the kinds of needs we see in behavioral health and human services broadly.
Using the assessment to make treatment plans provides more discipline to the treatment planning process, producing better plans, and less variability across your organization.
Using the assessment regularly provides a means for tracking organizational outcomes, and thus clinical insight on program effectiveness.
This whole process is influenced by leadership through decision support algorithms that emerge right at point of care.  Decision support includes information on risk stratification, level of care recommendations, and disposition recommendations.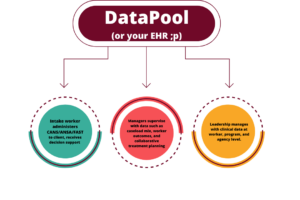 How CDR helps your organization attain full TCOM optimization:
Central to the TCOM model is a digital means for your workers to assess clients, receive decision support, and track outcomes.  CDR's DataPool application is the industry's best application for facilitating this process.  Built directly to our model, it provides the most streamlined TCOM experience.  However, many organizations with whom we work choose to use their own EHR for the process, and CDR provides consultation and/or direct coding expertise in tailoring the best means for this to occur in your organization.  Either way, CDR provides unparalleled expertise in the ensuring that you have a digital system working to unify your organizational capacities in providing care.
Clinical staff are trained and certified in the TCOM assessment model, including training the supervisors to use TCOM reports to manage staff regarding caseload mix, treatment and disposition planning, and outcomes.  They are also trained on the agency's specific decision support programs, and become a more tightly organized clinical team in response.
Organizational leadership receives organization-wide reports on a regular basis, so they can manage their organization based on clinical data that is directly from the frontlines, and then filterable and intervenable via the organization's leadership structure.  Some of the ways that the data is made actionable is through creating decision support algorithms for the front line to follow regarding disposition and planning.  Also, CDR provides data to interface with managed care, government entities, and accreditation bodies on outcomes, performance, and value.